HANDHELD POWER QUALITY ANALYZER
The Pure BlackBox, an advanced handheld power quality analyzer embedded with PQZIP Technology, is an easy to use plug and play device that continuously records all power quality parameters without thresholds settings or recording configuration. The device is available in 2 versions: Single Phase, 3-Phase.
Continuous waveform recording
Class A devices IEC61000-4-30
Configuration FREE Device
SD card slot hot swap
Fast USB connectivity to PC
Plug & Play
Continous Waveform Recordings
The Pure BlackBox continuously records voltage and current waveform sampled at a rate of 256 Sample/Cycle at 50/60Hz . Which provides information at a very high resolution, enabling to detect and analyze the slightest change without the need to set up triggers or thresholds.
Extended Harmonics Recording
The Pure BlackBox records and stores 128 harmonics components at 50Hz resolution and 512 inter-harmonics components at 5Hz resolution for both voltage and current
Supreme Trends Resolution
More than 5,000 power quality parameters such as RMS, THD, powers, power factor, unbalance and harmonics are logged continuously for more than a year at half cycle, 10/12 Cycles, 150/180 Cycles, and 2 hours resolution.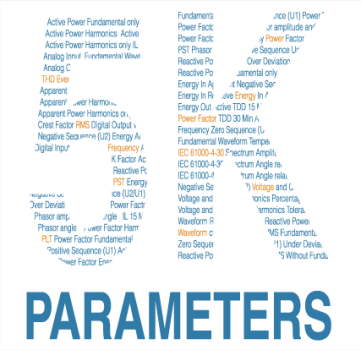 Comprehensive Event Mechanism
The PureBB is designed to detect any event occurring on your system.  The PureBB analyzer is capable of recording waveform signals continuously. The event configuration doesn't trigger the recording but rather stores summary logs including start and end time, duration, severity and magnitude of the event. All events can be displayed in a tabular or scatter charts as CBEME/ITIC.
AC power supply
LAN port (RJ45)
USB – data & DC power supply or wireless communication WiFi/ 3G dongle
Battery power/backup source of up to 4 hours
Protects the device from scratches and shocks. Available for both models
Ordering Information: SOA-0000-0500
Measurement Range: up to 200A AC
Output Signal: 1,000m V/A, 10m V/A
Operating Temperature: -20°C to +60°C
Cable Length: 1.2m
Custom Clamp 3-Flexible Current Probes
Ordering Information: SOA-3003-0271
Measurement Range: 30A/300A/3000A AC RMS
Operating Temperature: -20°C to +65°C
Probe Cable Length: 610mm (24")
Probe Cable Diameter: 194mm (7.5")
Ordering Information: SOA-0000-1400
Measurement Range: 1,500A DC / 1,000A AC
Output Signal: 1m V/A, 10m V/A
Operating Temperature: -20°C to +60°C
Cable Length: 1.4m
Product Series
3- Phase
Single Phase
General

4 channels, 100-690VAC Nominal Measuring up to 1.5 kV RMS

2 channels, phase and neutral through
power socket 100/240V AC Nominal
Measuring up to 0.5kV RMS

Current Channels

4 channels Voltage output CTs (0-10V peak)

1 channel, between source and load up to 10A Peak

Line Frequency

40-70Hz

40-70Hz

Sampling Rate

256 Samples/Cycle @ 50/60Hz

256 Samples/Cycle @ 50/60Hz

11 Bi-color LED: Voltage clips status – 4
Current clamps status – 4
SD card status – 1
PQZ Recording status – 1
General status – 1

3 Bi-colors LED SD card status – 1
PQZ Recording status – 1
General status – 1

 

Accuracy

IEC 61000-4-30 Class A

IEC 61000-4-30 Class A

Communication

LAN

Available in extension module

N/A

PQZ file download, FW upgrade & clock setting

PQZ file download, FW upgrade & clock setting

Power

100-240V AC 50/60Hz 10W 140-300V DC
5V DC over USB

100-240V AC 50/60Hz 10W
5V DC over USB

Ride Through

30 sec

15 sec

Battery

5h with extension module

N/A

Mechanical

Weight

0.4kg

0.25kg

Dimensions

180x115x60

146x82x48

Synchronization

External synchronization

NTP available in extension module

N/A

Internal Synchronization

10ppm

10ppm

Environmental

Operating Temperature

-20°C to +70°C

-20°C to +70°C*

Humidity

5% to 95% non-condensing

5% to 95% non-condensing

IP Protection

IP40

IP40

Storage

Nonvolatile Memory

SD Card supporting hot swap**